Completed Maritime Subjects 13 comments
When was "HMS 'Looe' Approaching Looe Island, c.1740" painted?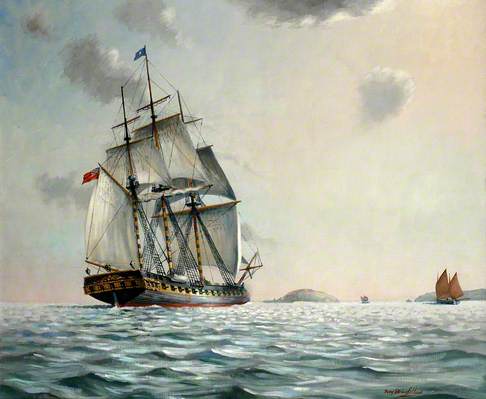 Topic: Execution date
We have a picture of HMS Looe approaching Looe Island c.1740, signed Roy Stringfellow. It would be interesting to know when this was painted. Also, the plaque beneath the painting says the ship was wrecked off Florida Quay, but the date is illegible.
Completed, Outcome

The following changes have been made as a result of this discussion.

Title: HM 'Looe' Approaching Looe Island, c.1800
[Later edit: title kept as c.1740]

Description: HM frigate 'Looe', 44 guns, was built on private contract at Limehouse, London, was launched in December 1741 and entered service in early 1742. Early in the morning of 5 February 1744, while engaged in anti-Spanish operations in the Florida keys, she ran onto a reef off the island since then known as Looe Key. Before the crew escaped in boats and another vessel, they set 'Looe' on fire to avoid capture. This is a mid-to-late-twentieth century painting by an artist listed as working in Cornwall and is presumed to represent the ship just before she was wrecked.

Execution date: c.1955–1980

These changes will appear on the Your Paintings website by the end of November 2014. Thank you to all for participating in this discussion. To those viewing this discussion for the first time, please see below for all comments that led to this conclusion.