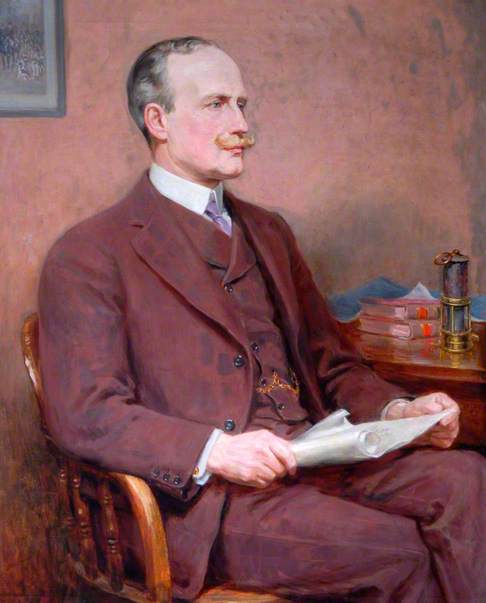 Topic: Subject or sitter
W. C. Blackett, C.B.E., T.D., D.L., LL.D., M.sC. J.P. was born on 18th November 1859 in Durham.

The unattributed painting was probably presented to the North of England Institute of Mining and Mechanical Engineers at the end of his Presidential term of office in 1912–14. He joined the Institute in 1876 having studied at the College of Physical Science which was based in the Institute's premises and Library. He received the G. C. Greenwell Medal, awarded for advances in the art and science of mining in 1906. After war service – although not in the front kine due ill health, he became President of the (federated) Institute of Mining Engineers (also based in the Mining Institute in Newcastle) in 1919–1920.

There is presently no further information on the date of the painting and it appears his birth date has been attributed as the date of the painting. The most likely dates are post his Presidencies in 1912 or 1920.
Completed, Outcome

As a result of this discussion this painting has now been attributed to Ralph Hedley (1848–1913). The execution date of 1908–1912 has been added.

These changes will appear on the Your Paintings website by the end of November 2014. Thank you to all for participating in this discussion. To those viewing this discussion for the first time, please see below for all comments that led to this conclusion.