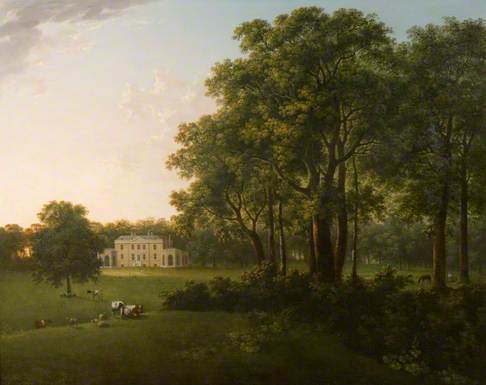 Topic: Execution date
It is not possible that this was painted in 1791. The wings on either side of Bower House were not added until 1800. The bizarre thing is that the other piece of artwork of Bower House attributed to 'J. S.' on Your Paintings is of the north front, and does not include the wings: http://www.bbc.co.uk/arts/yourpaintings/paintings/a-view-of-the-north-front-of-bower-house-havering-atte-bowe3158

This suggests it was painted before 1800, but the painting record indicates an approximate date of 1840. Perhaps 'J. S.' painted the north front before the add-on and then was hired to paint the south front after the addition?

The collection comment: 'We are quite happy for this to be opened up for public discussion. The artist's initials are recorded at the Essex Record Office as "B. S."'.

PCF Note: Please be aware that, until January 2016, the Your Paintings website displays the 1791 'A View of the South Front of Bower House, Havering-atte-Bower' as being by the same artist of an unrelated work, 'Cows in a Field, a Farm in the Background' at Letchworth Museum and Art Gallery, signed in the lower-left corner 'J. A. S'. Assigning the two works to the same artist ('J. S'.) was an error which has been corrected in our database but is yet to appear corrected online.
Completed, Outcome

This discussion is now closed. The artist of both works has been identified beyond reasonable doubt as Abraham Pether (1756–1812) and the paintings dated to 1791 or thereabouts. They are likely to be no. 180 (the south view) and no. 206 (the north view) exhibited by Pether at the Royal Academy in 1792. The discussion has also established that the wings seen in the paintings of Bower House were a later addition, probably c.1800.

Thank you to everyone who participated in this discussion. To those viewing it for the first time, please see below for all the comments that led to this conclusion.