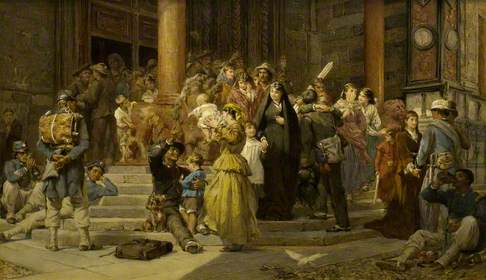 Topic: Subject or sitter
I thought the uniforms of the soldiers (there seem to be two types present) might provide a clue if not the steps themselves. Not being an expert in these things I would value any suggestions.
Completed, Outcome

This discussion is now closed. The location has been identified as the portico of Santa Maria Maggiore, Bergamo. The title has been updated from 'On the Cathedral Steps' to 'Home! After Service (after Frank William Warwick Topham)' and the execution date amended from 1889 to 1879 (?). Biographies of Felix Robert Roffe and William John Roffe (no relation) have been added to our database (the latter not published online as there are no known works by W. J. Roffe in public collections).

Thank you to everyone who contributed to the discussion. To anyone viewing this discussion for the first time, please see below for all the comments that led to this conclusion.