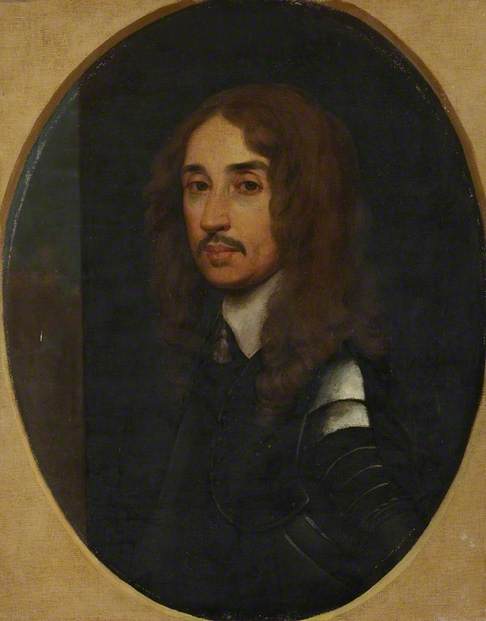 Topic: Execution date
The Collection has commented: This is a half-length portrait of one of the Anthony Kynnersleys - a copy of a portrait originally painted by an unknown artist around in the 17th century. The sitter's clothing is typical of those worn in similarly formal portraiture during this period.

The attribution of this sitter is based on a chalk marking on the rear of the canvas, whilst the wooden stretcher is marked in pencil with 'Leighton Hall'- the home of his descendants. Which of the Anthony Kynnersleys it shows is unknown, but is either the one who died in 1662, or the one who lived 1662—1695.

This painting is probably a later copy of an earlier painting, most likely completed by the same copyist who painted this portrait (FA.00749) https://bit.ly/3mTpPBY and the one of Captain Anthony Kynnersley (FA.00759) https://bit.ly/3mUqrah. The canvasses used in each are identical in size and each use the trompe l'oeil oval frame whilst its rear contains a stamp indicating that the canvas came from John B. Smith's painting supplies company of London. This stamp is present on all three canvasses with exactly the same errant smudges, reading: 'John B. Smith, Artist's Colorman, Manufacturer and Importer, 117, Hampstead Rd., London'.

John Bryce Smith, the owner of this company, lived between 1850 and 1931, whilst the company itself did not exist until John Bryce's father John established it in 1848. More so, John Smith did not take over the company (from his father) until 1883, and this kind of stamp only appears on his canvasses in the mid-1890s to mid-1900s.

It is difficult to know why the copies were produced, but it may be linked to the refurbishment of Leighton Hall in the late 1880s.