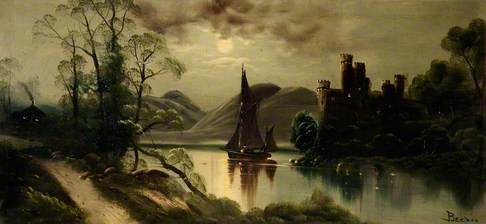 Topic: Artist
Does anyone know which 'Becker' painted this picture?

We know very little about this painting in our collection other than the fact it is signed 'Becker'. Even the title is inferred.

The painting has been variously attributed to Ferdinand Becker (fl. 1770s–1825), who is sometimes known as Edmund Becker, or to August Becker (1821–1887).

Can anyone help clear this up?
Completed, Outcome

This work now has an updated description:

'Signed 'Becker', and previously attributed to Ferdinand Becker (active 1770s–1825) or to August Becker (1821–1887), it now seems likely that this artwork is, in fact, a commercial decorative painting imitating the style of one of the Pether family with what is possibly an invented name as a signature. This style of scene and painting technique also appears in paintings on the backs of glass, on clock faces, and similar types of popular art.'

This amend will appear on the Art UK website in due course. Thank you to all for participating in this discussion. To those viewing this discussion for the first time, please see below for all comments that led to this conclusion.