Completed Sculpture 31 comments
Which foundry made this bronze 'Cupid and Dolphin', reproduced from an original at Pompeii? Is it late-19th C Neapolitan?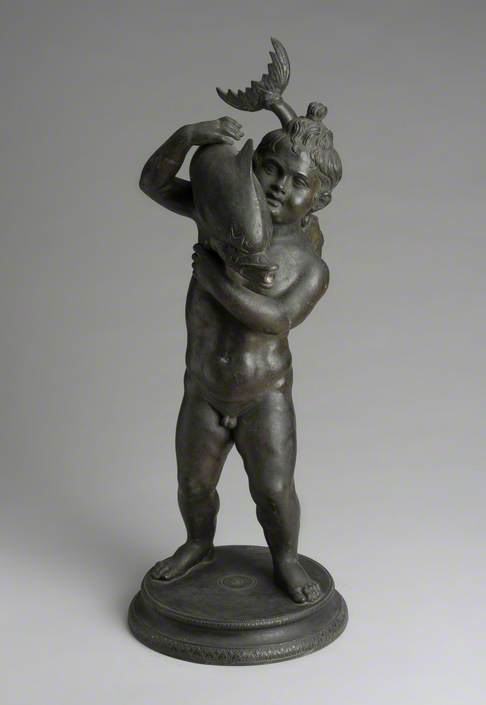 Topic: Subject or sitter
The original of this bronze copy was discovered during an excavation at Pompeii, in Italy, as reported in 'The Graphic' of the 5th November 1881:
https://d3d00swyhr67nd.cloudfront.net/_source/cupid-dolphin-the-graphic-5th-november-1881.png

The original must date from before 79AD, the year that the city was buried under the ash from the eruption of Vesuvius.

The American Architect & Architecture magazine (Volume 9, 1881) described the bronze figure: 'Four bronze statuettes, which have recently been found at Pompeii, are now to be seen in Naples. One is a magnificent work about two feet high, representing a cupid holding a dolphin on his right shoulder…'

Giving an overview of the few previous years' results from the excavations at Pompeii, the 'Marin Journal', of the 18th January 1883, referenced the original of this discussion's bronze, the relevant extract from which is here:
https://d3d00swyhr67nd.cloudfront.net/_source/cupid-dolphin-marin-journal-18th-january-1883.png

Thus, this statuette is likely to have been fabricated in Naples, from a cast from the original bronze, sometime between 1881, the year of the original's discovery, and 1898, the year that it was purchased in Naples. With a contact to the right antique art experts in Naples, it probably would not be too difficult to discover which late-19th century foundry in Naples was producing these copies.
Completed, Outcome

This discussion is now closed. The questions about the artist and the date have been answered. 'Cupid with Dolphin' was cast by Sabatino de Angelis & Son, Naples, which obtained permission to manufacture casts from the collections of the Museo Archeologico Nazionale, Naples in 1888. The source is a two foot high bronze fountain figure from the House of the Large Fountain, excavated at Pompeii in 1880. It can be dated 1888–1898.

Thank you to everyone who contributed to the discussion. To anyone viewing this discussion for the first time, please see below for all the comments that led to this conclusion.