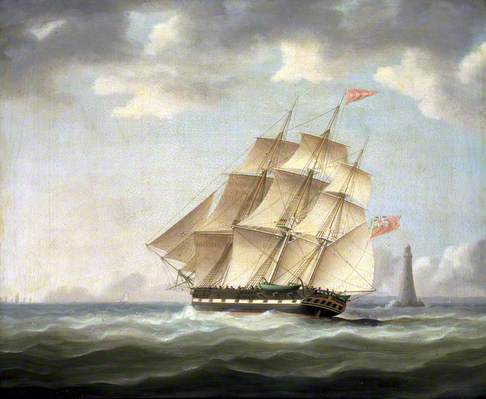 Topic: Execution date
'Harpooner' may have been the name of various ships, but the 1850–1875 date looks rather late for this canvas. The ship may be the same as the one, Blackwall-built in 1830, shown in another picture by William John Huggins (1781–1845): http://collections.rmg.co.uk/collections/objects/14863.html

While the style of this painting is a bit looser, it might be a later painting by Huggins, although I'm less than sure. Does anyone have alternative artist suggestions? The lighthouse may be Smeaton's Eddystone tower, in use 1759–1877.

The collection comments:

A description of the painting can be found here:
http://www.sciencemuseum.org.uk/online_science/explore_our_collections/objects/index/smxg-40970

The lighthouse is not definitively identified as Smeaton's by any means.

We have additional information from the painting's donor, provided in 1932:
Mrs. A. M. Grant's grandfather was Captain Clark, commander of the 'Harpooner'. He and his ship were lost at sea in 1833.

This is the earliest whaler represented in the Museum. The sails and rigging are typical but the stern is unusually elaborate.
Completed, Outcome

This painting is now listed as by British School, and an execution date of c.1831 has been added to the work.

This update will appear on the new version of Your Paintings, which will be live in early 2016.

Please see below for all the comments that led to this conclusion. If you have any new information about this work, please propose a new discussion from the artwork page.