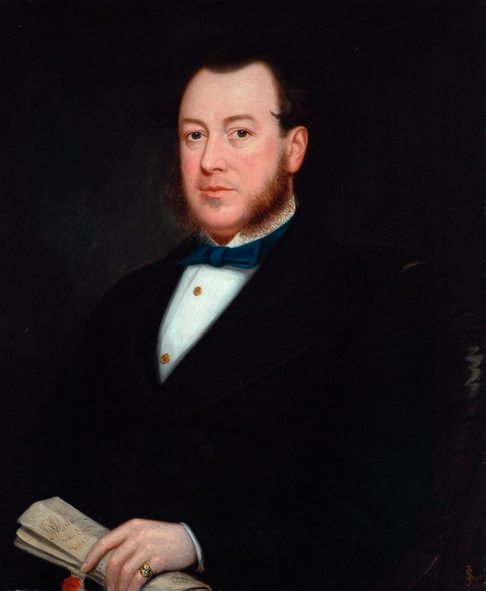 Topic: Other
Three artists named John Scott are recorded on Your Paintings, included the Newcastle marine painter, who is currently attributed as the artist of this portrait.

http://www.bbc.co.uk/arts/yourpaintings/artists/john-scott
http://www.bbc.co.uk/arts/yourpaintings/artists/john-scottz
http://www.bbc.co.uk/arts/yourpaintings/artists/john-scott-10299

While the painting may be by a 'John Scott' – not an uncommon name – it at least seems unlikely it is by the marine painter, unless there is firm evidence he also painted portraits. This is the only one included for him.

I can't help on which Scott (either of the other two already on Your Paintings, or not) by whom this might be. Even if just a local hand, he must have done more, so perhaps others can either point them out or add further information.

The collection comments: 'Merchant Adventurers' Hall agrees that the current attribution is incorrect. The signature on the Thomas Bell portrait is quite different to the maritime artist (see attached close up). The date of 1874 is very clear as well so was painted sometime after he was Governor and 10 years before he died.

I am not sure whether the two other artists featured on Your Paintings could fit the bill but I am unable to see the signatures clearly enough to see whether there is a possible match.

There is quite a lot of information on Thomas Bell: he was a Wine and Spirit merchant based in York and was Governor of the Merchant Adventurers in 1854–1856 (at a time when the Company was at its lowest ebb with perhaps less than a dozen members). The painting has been in the collection since 1904, when it was gifted to the company by Miss J. Bell (sister of Thomas Bell).

I would be interested in pursuing this further as the signature seems fairly distinct and I am certain someone out there would know who the artist was.'
Completed, Outcome

This painting has been attributed to John Scott (1850–1919) and is now titled 'Thomas Bell, Governor of the York Merchant Adventurers (1854–1856)'.

These amends will appear on the Art UK website in due course.

If anyone has any new information about this painting or artist, please propose a new discussion by following the Art Detective link on the artwork page on Art UK.