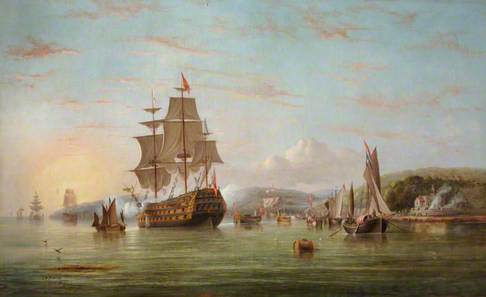 Topic: Subject or sitter
The subject of this picture is at war with its title. It's a historical exercise by a well-known Victorian painter, often of yachting subjects, but in this case showing a barge or barges leaving a three-decker flagship of apparently mid-to late 18th-century date to land VIPs at some partly fortified harbour. If there are Royal standards then it's a royal landing, but one would need greater detail of the flags (on the ship and other craft) to confirm that. It is unlikely to be Cowes and has nothing to do with the Royal Yacht Squadron (which came much later) and it is possible that the event intended is earlier than the apparent date of the ships, which is sometimes the case when artists were shaky on their technicalities. There's a Dutch-flagged vessel to the right which might be a clue depending on what the other flags suggest, but it's an early Georgian or possibly even late Stuart subject - not one after 1800.
Completed, Outcome

This discussion is now closed. The title has been changed from 'The Royal Barge off Cowes with the Royal Yacht Squadron Beyond' to 'Charles II's Charter for Newport, Isle of Wight, Being Taken Ashore off West Cowes Castle'. The subject was found to be a well-intentioned historical pastiche involving an error about the date of the charter, as explained in the artwork description.

Thank you to everyone who contributed to the discussion. To anyone viewing this discussion for the first time, please see below for all the comments that led to this conclusion.