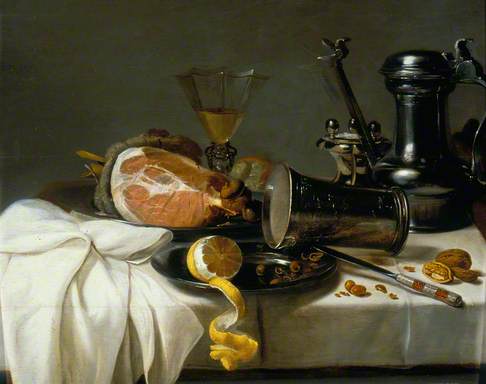 Topic: Artist
This painting was identified in 1979 by Colin Thomson of National Galleries of Scotland as by Jan van Zoon (1661–1702). In 2005, however, Fred Meijer, Curator in the Department of Old Netherlandish Painting at the Netherlands Institute for Art History, rejected the attribution to Van Zoon, suggesting that the painting was more likely Dutch around 1640, and not necessarily by a still life specialist painter such as Pieter Claesz or Jan Jansz. van de Velde III.

Art UK adds:
The National Inventory Research Project entry records the artist as Jan Frans van Son (Flemish, 1658–c.1718), the alternative title 'Still life, after van Zoon' and possible dates c.1640–c.1650. The entry notes that, according to Meijer, the artist had had difficulty composing this still life. He changed the angle of the spout on the jug and moved the Venetian style glass in the background, resulting in a slightly cluttered composition. (letter, May 2005, gallery file)

RKD records Jan Frans van Son (1658–1701) as the son of Joris van Son (1623–1667), both born in Antwerp. Jan Frans was active in England from c.1678 until his death in 1701.