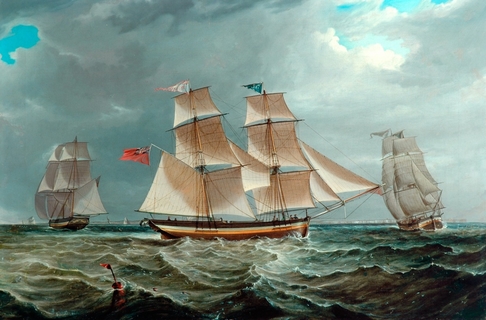 Topic: Artist
We would be interested to know whether anyone could identify the artist of this seascape.

The painting depicts the merchant ship 'Studley' in three positions, sailing through the Bristol Downs. The Sailing Brig 'Studley' was built in 1820 and owned by Mr William Leetham of Skeldergate, York. Merchant ships at this time would have sailed the world's oceans trading in items such as spices, wine, cloth and lead.
Completed, Outcome

This discussion has now been closed. No conclusion was reached. If any contributors have new information about this painting, we encourage them to propose a new discussion by following the Art Detective link on the Your Paintings page: http://www.bbc.co.uk/arts/yourpaintings/paintings/the-brig-studley-10389

Thank you to all for participating in this discussion. To those viewing this discussion for the first time, please see below for all comments that led to this conclusion.