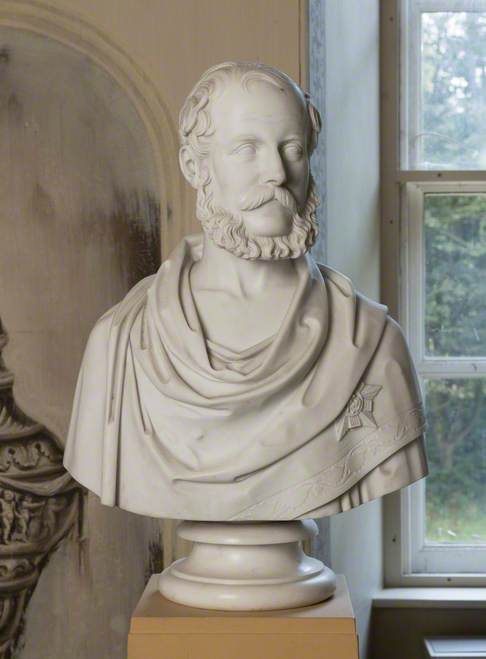 Topic: Subject or sitter
The sitter cannot be Edward VII (1841–1910). Apart from the fact that this looks nothing like Edward VII, the marble bust was sculpted in Aberdeen in 1861 when the Prince was only 20, and he was clean shaven until at least his marriage in 1863.

Several of Alexander Brodie's works are listed on 'Mapping Sculpture': https://bit.ly/2w36Tu3

This work is inscribed 'Abdn / 1861'. Brodie exhibited a sculpture of 'Col Leith-Hay CB' in 1861. This refers to Colonel Alexander Sebastian Leith-Hay (1818–1900) of Rannes and Leith Hall, Aberdeenshire. Could this discussion's work be that sculpture, perhaps commissioned in honour of Leith-Hay's retirement from the army, which was effective 21 December 1860, and completed the following year when he was 43?

This sitter's robe is adorned with what appears to be a Scottish regimental medal with a thistle in the middle. cf. Medal of the Royal Scots: https://bit.ly/38l1ixJ (but it's neither this, nor the badge of the 93rd Highlanders in which Leith-Hay served)

Leith-Hay was made a Commander of the Order of the Bath, Knight of the Legion of Honour and of the Order of the Medjidie, but the medal pictured here is apparently not any of those (but I am no expert) – see attachment detail. Leith-Hay's medals are shown in this 1868 portrait by John MacLaren Barclay. https://bit.ly/2ON4r1o

The 1861 sculpture of Leith-Hay may be a red herring. Could anyone confirm this sitter's identity please?