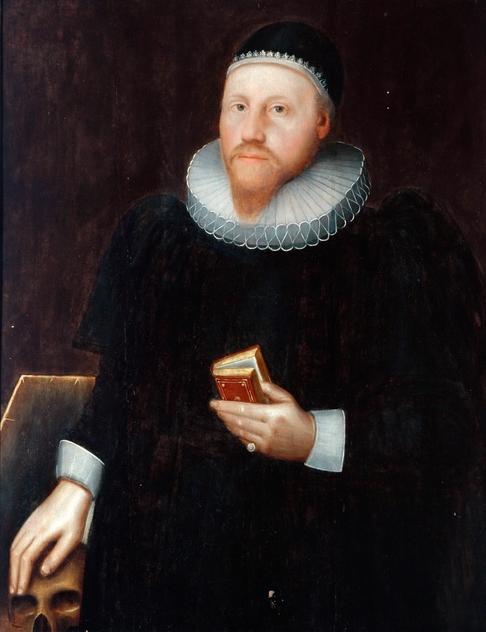 Topic: Artist
This portrait of an early 17th Century man (who we think is a possible York merchant) is of interest to us and our visitors and we'd like to know a little more about the possible artist and to narrow down the time period in which it was painted. The gentleman in question rests his hand on a skull and has in his other hand a book (presumably the bible) with a skull on a ring – we are assuming that this is allegorical.

Unfortunately the identity of the sitter remains unknown and we have no information on the artist or if the portrait is English or whether it is European in origin. We have guessed at his identity but without really knowing for sure! It has been speculated that the painting may depict John Kendrick, a merchant, and later a citizen and draper of London in 1624 or William Breary, a merchant adventurer and alderman of York in 1637 who was Governor from 1611–1614 and 1632–1635.

He wears a black robe with white cuffs, a ruff, and a black skull cap edged with lace. The photograph of the painting has identified what could be later additions such as the larger shoulders on the robe that he is wearing.
Completed, Outcome

This discussion has now been closed. No conclusion was reached. If any contributors have new information about this painting, we encourage them to propose a new discussion by following the Art Detective link on the Your Paintings page: http://www.bbc.co.uk/arts/yourpaintings/paintings/unknown-gentleman-with-a-red-book-and-a-skull-10356

Thank you to all for participating in this discussion. To those viewing this discussion for the first time, please see below for all comments that led to this conclusion.