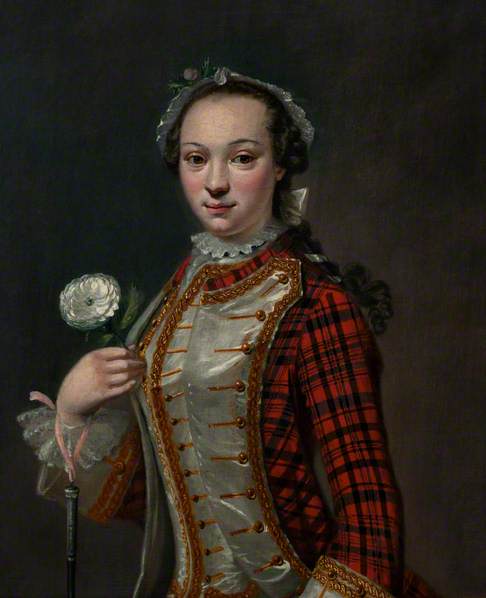 Topic: Other
This unidentified portrait of a Jacobite lady is one of a small number of pre-Proscription* pictures of women wearing tartan.

The tartan, faithfully reproduced in the painting, is Murray of Tullibardine. Can we therefore hazard a guess at the identification of the sitter? She appears to be aged roughly 18–35 and the style and fineness of her jacket indicate a lady/family of wealth. The white rose represents a Jacobite supporter and it was probably painted in the 1740s, most likely 1745–1746.

We cannot be certain that she was a Murray, but several possible contenders for her identity amongst this strongly Jacobite clan are listed in the attachment.

She has also been identified as Jenny Cameron, daughter of Cameron of Lochiel and alleged mistress of Bonnie Prince Charlie.

The collection comments: 'Traditionally, the sitter is attributed as Flora MacDonald. However, it has been suggested that the lady is Jenny (or Jean) Cameron who might be an amalgamate of more than one lady.'

*The Act of Proscription 1746 banned the wearing of Highland dress (thus tartan) in Scotland and reiterated the Disarming Act, both of which were intended to crush Jacobite support among the Scottish clans following the Jacobite Rising of 1745.