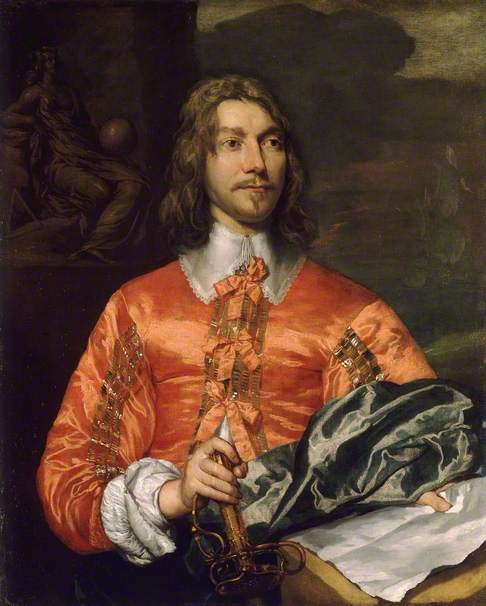 Topic: Subject or sitter
This half-length portrait of an unknown Royalist naval commander was painted by William Dobson in Oxford, while he was there as court painter to Charles I, having succeeded Van Dyck after the latter's death in 1641. Dobson was with the king at Oxford in 1642 and painted many Royalists between then and his death in 1646, aged 35.

The sitter holds the hilt of his sword in his right hand. In his left hand is a piece of paper, thought to be a chart or his naval commission. There is no writing on the paper. A swathe of blue fabric, which may be a cloak, is draped over his left arm, perhaps symbolic of the sea. Behind him, upper left, a sculptural relief depicts an allegorical female figure holding a globe, with a set square and nautical dividers at her feet. Over his left shoulder there is apparently a view to the sea (now obscure, possibly once clearer), with the ghost of a ship in full sail.

The picture was exhibited at Tate in 1951 and in the Dobson loan exhibition at the National Portrait Gallery, 1983–1984.

Thank you very much to Pieter van der Merwe for the attached abstract of notes from the collection's paper file, mostly made by Michael Robinson from conversations and correspondence between 1946 and 1969. Crops of the allegorical figure, ship and sword hilt are attached.