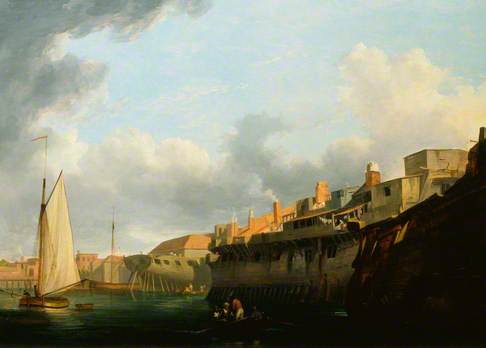 Topic: Artist
A previous discussion has confirmed the current title of this painting and more specifically identified the location shown on the north side of Sheerness Dockyard by reference to the contemporary (1774) model of the yard held in the National Maritime Museum. It is clear from the model that the painting probably pre-dates the early 1770s (further speculation or research would be welcome).

In the course of the previous discussion, the artist attribution to William Marlow has also now been queried, since Michael Liversidge, as an authority on his work, has expressed the view that this 'can be disregarded, I fear. It is quite unlike his normal handling, and apart from two pairs of paintings on copper done for his patron the Duchess of Northumberland, 1766–1767, of Italian scenes, he has never been recorded painting on anything other than canvas. It would interesting to know who the artist may be.'

Can anyone make alternative suggestions, with evidence to support them?
Completed, Outcome

This painting is now listed as by the circle of or style of Samuel Scott (c.1702–1772).

These amends will appear on the Art UK website in due course. Thank you to all for participating in this discussion. To those viewing this discussion for the first time, please see below for all comments that led to this conclusion.