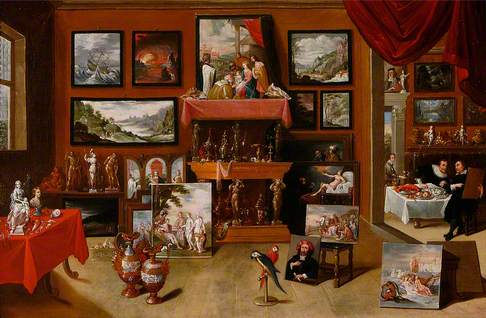 Topic: Artist
NICE Paintings lists this 1679 work as by Egide Smeyers (Flemish painter, 1634–1710) (please follow the link to the NICE Paintings record on the right-hand side of this page).

According to St Edmundsbury Museum's records 'A Connoisseur's Studio' was painted by Jacobus Smeyes.

Any information/thoughts welcome.
Completed, Outcome

This work, by Flemish artist Jacobus Smeyes (or Jacques Smeyers) appears to be a copy of Frans Francken II's 'A Collector's Cabinet' of c.1610–1615, of which there are possibly seven known versions by the artist.

A description for the painting and updates to the artist record will appear on the Art UK website in due course. Thank you to all for participating in this discussion. To those viewing this discussion for the first time, please see below for all comments that led to this conclusion.