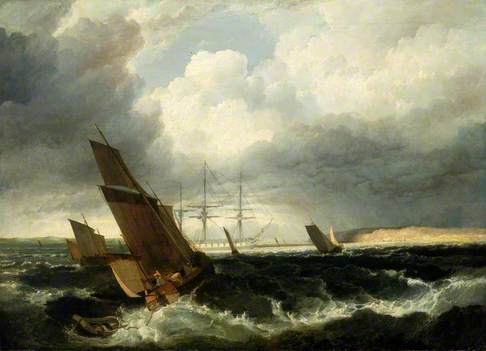 Topic: Artist
Suggestions for the artist and other examples of his work would be welcome.

The painting was formerly in the collection of the Birmingham screw manufacturer Frederick Nettlefold (d.1881) as the work of Clarkson Stanfield (1793–1867). It was included as a Stanfield in the printed Nettlefold catalogue.

Though the sky might be Stanfield, the rest isn't. I formerly wondered about James Baker Pyne (1800–1870), mainly for the way the sunlit cliffs in the background are done, but could not find anything in a list (or a copy thereof) of his works which I think I saw in the National Portrait Gallery. So far, I have not pursued the matter further.

Until recently, it hung for many years in a corridor just outside my office. It's been puzzling me for far too long.
Completed, Outcome

This discussion is now closed. The painting remains catalogued as 'British School'. The acquisition method has been recorded and a painting description added from the recently updated collection website.

Thank you to everyone who contributed to the discussion. To anyone viewing this discussion for the first time, please see below for all the comments that led to this conclusion.