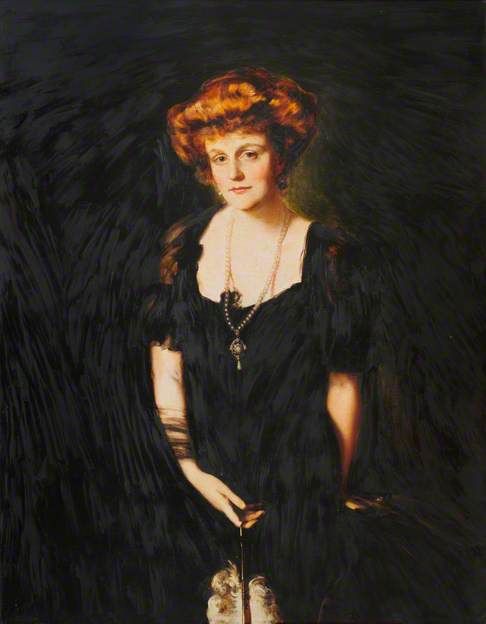 Topic: Artist
Not much can be found online about Maud Jacqueline Marie Beauclerk van Kattendyke (also spelt Kattendijke) who was born in 1879 (?) and died in 1927. She married Arthur Gore, 6th Earl of Arran, in 1902. A portrait of him, also by an unknown artist (maybe the same?) is also in the collection of the Moorfield Eye Hospital NHS Foundation Trust. See https://bit.ly/3elU53B
3 comments

The artist was probably a specialist portraits of figures in high society - a sort of earlier Philip de Laszlo?

Datewise it could be de Laszlo himself. After his marriage to a Guinness in 1900, he's fairly active in the UK and Anglo-Irish aristocrats are exactly who he is painting a lot of. That said I'm not convinced it's quite his style and his stuff is usually quite well signed.

If the pictures are a pair, they must date after the Earl was made a Knight of the Order of St Patrick in December 1909. He is in full regalia, so they could have been painted to mark that occasion and the ages look right enough, though anytime in the following decade would be plausible. It might be possible to work out more exactly from the other decorations.

Both portraits are seen slightly from above, which is unusual and might suggest they were painted to be displayed in a particular position.