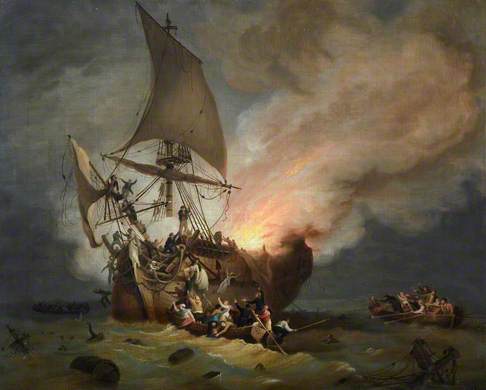 Topic: Painting description
This artist, British School, c.1800–1820, should be fairly easily identifiable. The ship is probably intended to be a small Indiaman given that the officers and crew all wear quasi-naval blue-jacketed dress and lady passengers in white muslin are among those shown, with possibly army men in red coats in one of the boats.

It has elements of Northcote's melodramatic figure treatments relating to ship losses ('Wreck of the "Centaur"' exh.1796, and 'Loss of the "Halsewell"', 1786) and de Loutherbourg, but only as influences and I'd be interested to know who the artist is.

The incident may also be a real one, (though probably not the loss of the Indiaman 'Kent' by fire in 1824 in the Bay of Biscay, when other ships were to hand).

The collection comments:
'This work came to us through a bequest from one of our artist Members, William George Gillies (1898-1973), and unfortunately there were no provenance details that came with it.'
Any further information would be welcome.