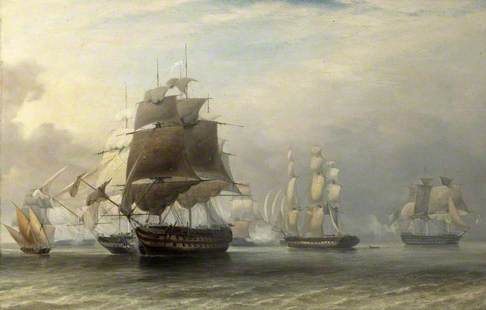 Topic: Other
We would dearly like to know more about this work – specifically who the artist might be and what nation (if any!) the flags belong to. Is this a real or imagined event? A more precise date for the ships would be useful but, having worked at Portsmouth City Museum and Art Gallery, I can see that they have the built up bows that you see following the Napoleonic Wars.
Completed, Outcome

This discussion has resulted in a title change. The title will be changed to:

'Admiral Charles Napier's action off Cape St Vincent, 5th July 1833'

All views regarding the artists will be kept on file.

Thank you to all for participating in this discussion. To those viewing this discussion for the first time, please see below for all comments that led to this conclusion.