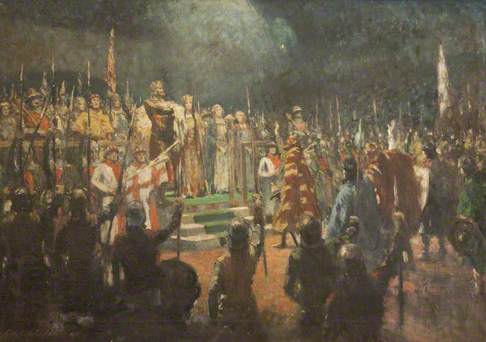 Topic: Other
The pageant shown was titled 'The First Prince of Wales' – here is a photograph: http://bit.ly/2o2UtgQ

I have been unable to identify any named artist of portrayals of the scene but it might be worth considering Fortunino Matania – who had illustrated the tournament previously and was producing royal scenes around 1932, e.g. http://bit.ly/2omr9hr

The collection note: 'We will add this information to our database. It would be very interesting to see if we could find anything else out.'
Completed, Outcome

This discussion is now closed. The artist has been identified as Charles Gilbert Joseph Holiday (1879–1937). The title has been updated to '"The First Prince of Wales" Pageant, 1932' and the painting description adds that the performance by the Prince of Wales's Volunteers (South Lancashire Regiment) took place at the Royal Tournament of that year.

In addition, the collection has found an extract from the 'Regimental Chronicle' which confirms the artist as Gilbert Holiday.

Thank you to everyone who contributed to this discussion. To anyone viewing it for the first time, please see below for all the comments that led to this conclusion.