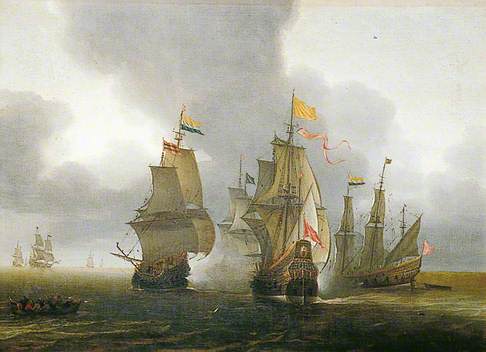 Topic: Artist
This is not by Brooking, even when he's doing Dutch subjects 'a la van de Velde': it shows a fight between (Protestant) Dutch ships and (Catholic) ones flying colours of the Spanish Netherlands (Flanders), presumably before the Peace of Westphalia in 1648 - which is fine for the ship forms shown- and it's by a good Dutch -rather than Flemish- hand of about that period. Could anyone suggest the artist?

The collection notes: 'There is very little information on our object record for this artwork. It is possible that it may have been mis-attributed when entering the collection.'

The painting has been inspected and appears to be unsigned.
Completed, Outcome

This discussion is now closed. This painting has been attributed to Willem van Diest (1610–1673). The subject has been identified as a fight between Dutch and Spanish ships and can be dated to c.1648, around the time of the Peace of Westphalia.

Thank you to everyone who participated in this discussion. To those viewing it for the first time, please see below for all the comments that led to this conclusion.