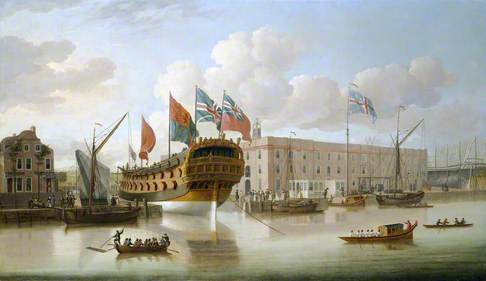 Topic: Artist
This painting is signed and dated 'J Clevly P:1747'.

The attached link is to what appears to be another, larger, version of this event in a painting which – without a dated signature on it – would be immediately attributed to Cleveley. It is, however, very clearly signed and dated as by a William Pratt, Greenwich, 1750 (on the canvas cover of the boat l.r.), which technical examination suggests is original and not some later addition/falsification:

https://bit.ly/2uTLRun

The compositional framing, left and right, is unusual for Cleveley (just a cut-off naval lion figurehead in profile to left, and an also cut-off bow of a cutter or similar vessel at right), as is the roseate pink tone, especially in the modelling of the clouds: Cleveley's clouds tend to be flatter and white/grey-blue. Nonetheless it is an impressive piece and remarkably close to and on a par with him in terms of quality. (If it is, as we think, also the launch of the 'St Albans', and were it by Cleveley, it would also certainly be considered a primary version rather than a secondary copy to that in the National Maritime Museum, as the auction description implies.)

Mr Pratt, however, is an enigma. There is only one other painting by him apparently known in the Lady Lever Art Gallery, of very different subject matter but similar if slightly rougher painting character, dated 1769.

https://bit.ly/2MoTqn3

Pratt otherwise does not appear to feature as a known artist in any readily discoverable reference source. We have just the name, a now apparent date range of c.1750–1769, and 'Greenwich' as a location for 1750 (i.e. a short walk from Deptford).

On the basis of Pratt's Deptford picture it is inconceivable that he could have painted so like Cleveley without being associated with him. Given that there was a large concentration of craftsmen, including painters, employed at Deptford Dockyard because of its specialisation in building and maintaining the Georgian royal yachts, it is possible that, like Cleveley (who was a lifelong shipwright/carpenter there), he may also turn up on the Deptford yard books when enquiry can be pursued. If he does though, it may raise the possibility that some 'Cleveleys' which have been attributed solely on style rather than signature may turn out to be 'Pratts'. Why he should later have turned to 'Classical Ruins', as in the other picture, is also an open question, but that might also be explained if he was essentially a decorative painter by trade.
Completed, Outcome

This discussion is now closed. The conclusion is that we have identified a mid-18th century painter called William Pratt, who, like John Cleveley the Elder, was probably also a shipwright/carpenter in the Greenwich/Deptford area and is at present known from one (privately owned) work in the manner of John Cleveley the Elder. That picture shows what is apparently the floating out of the 'St Albans' but, if a direct copy from Cleveley, based on a version not now known and prior to the Cleveley picture at the National Maritime Museum.

Thank you to everyone who participated in this discussion. To those viewing it for the first time, please see below for all the comments that led to this conclusion.