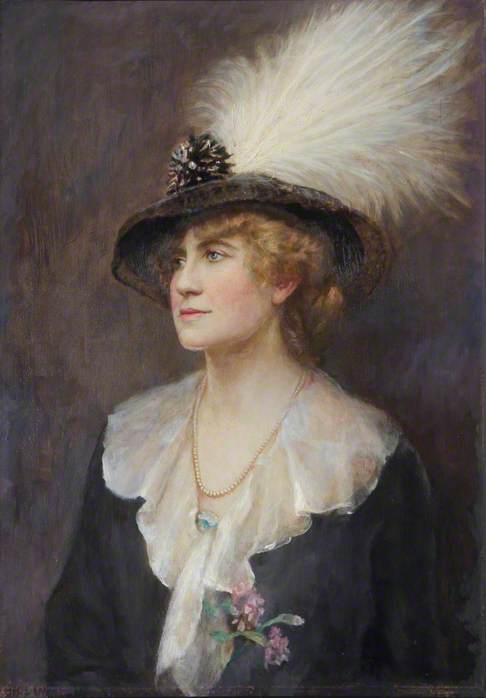 Topic: Artist
We have long been intrigued by this characterful portrait. It is of Lady Beatrice Lever, whose only other image I know of is a small sketch in the Imperial War Museum. We think it is from the period 1900-1914. We have it apparently through its donation by her son, Sir Tresham Lever, who was later a trustee of one of our predecessor hospitals, maybe in the 1930s.

A puzzling aspect of the canvas is that at the very bottom left edge there is an inscription in large and rough capitals that is hard to read, but looks possibly like "E HILLWRIGHT" or some such name. It really does not look like an artist's signature. We would love to know who the artist might be as it is such a likeable picture.

Oddly there seems to be very little about the subject either, even though she must have been fairly well known at the time.
Completed, Outcome

The title has now been amended to: 'Lady Lever, née Beatrice Hilda Falk' and the artist to: Ethel Wright (1866–1939). The birth date is from NPG collection records.

This change will appear on the Your Paintings website by the end of August 2014. Thank you to all for participating in this discussion. To those viewing this discussion for the first time, please see below for all comments that led to this conclusion.