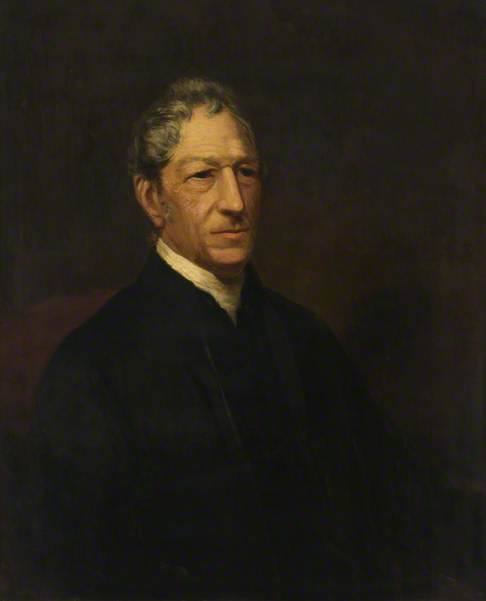 Topic: Artist
Another portrait of the sitter was painted by George Patten (1801–1865). The following is an excerpt from the Manchester Courier, Saturday 3rd October 1840, p.5:

'BOLTON. Dinner to George Patten, Esq. On Wednesday George Patten, Esq., A. R. A., met the committee and a party of the subscribers to the Vicar of Bolton's portrait at dinner, at the Swan Hotel. The magnificent painting of the Rev. J. Slade occupied a prominent place the room, and, along with proof of the exquisite engraving from it by Thomas Lupton, Esq., elicited the warmest approbation of the subscribers and their friends.'

A DNB entry for James Slade says the painting had hung in the Church of England Educational Institution at Bolton. A description of the Slade painting by Patten features in the Monthly Magazine v.1, 1839, p.625 'painted in his surplice at the altar of the parish church of Bolton le Moor', so it would seem that this is not the Patten version but a later version. The attached image seems to match the description of Patten's earlier portrait.

A later portrait is referred to in the Cheshire Observer Saturday 9th February 1856, p.8: 'the parishioners have shown their high appreciation of his [Rev Canon Slade's] eminent services [...] by presenting him with his full-length Portrait; and it is rather singular that within the last few days, we have met with the copy of a printed letter which he addressed to the secretary of the committee appointed upon that occasion, to superintend the execution of the work, and which vividly pourtrays his own character'.
Completed, Outcome

This discussion is now closed. The artist has been identified as Joshua Horner (1811–1881) and the painting has been dated to 1855.

Thank you to everyone who contributed to the discussion. To anyone viewing this discussion for the first time, please see below for all the comments that led to this conclusion.