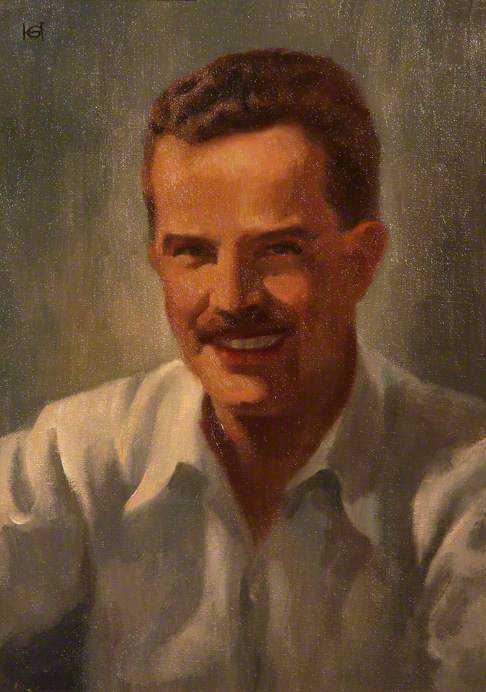 Topic: Artist
This portrait is signed in monogram upper left, possibly 'HG'. Could anyone identify the artist please?

Andrew Alexander Pitcairn, grandson of Lieutenant Colonel Andrew Pitcairn, joined The Black Watch as Second Lieutenant in 1920. He rose to the rank of Major in 1938 and served in Palestine from 1937 to 1939. He was Temporary Lieutenant Colonel commanding the 2nd Battalion in the Defence of Crete in 1941, and was killed in action during the breakout from Tobruk later that year whilst second-in-command of the 2nd Battalion.

The collection has attached images of the monogram and details from the back of the painting's frame. Unfortunately they are unable to remove the frame to see the back of the canvas.
3 comments

I fear this will be difficult to track down, as to me it looks like an amateur work, and/or based on a photograph (and if the latter it might even be posthumous).

Pitcairn was born 9 Mar 1901, and I would guess this shows him in the mid/late-1930s. He was a Scot through and through, as was his wife Goda de Pree, through her mother a great-niece of Field-Marshall Douglas (Earl) Haig. They married in August 1938, and had one child, a son David (b.1939); he was tragically killed three years after his father when a de Havilland Mosquito on a training flight crashed into his maternal grandparents' house in Haddington in the middle of the night. His nanny, his grandmother and her brother also died in the ensuing fire.

In 1930/31, 35/36 & 39/40 Pitcairn is registered as an elector at his parents' home in Edinburgh, and in 1934 in barracks at Perth - which suggests that when not overseas with his regiment he was based with them in Scotland. However an obituary mentions a period as adjutant and quarter-master of the Army School of Education, but when and where I don't know - for example there was one in India (where Pitcairn is also said to have served). So if it is an ad vivum work, a Scottish artist is more likely - but it could be the work of someone, perhaps a fellow soldier, that he came across abroad.

One possibility is that 'HG' is in fact 'GH', and that the artist might be George [Alexander Eugene Douglas] Haig, 2nd Earl Haig (1918-2009). 'Dawyck' Haig, as he was usually known, was first cousin to Major Pitcairn's mother-in-law, Ruth de Pree (née Haig, 1873-1944). At the time of Pitcairn's death Haig was a lieutenant in the Royal Scots Greys, but after WWII he trained at Camberwell and became a highly successful professional artist. However, he had been painting extensively while a POW in Italy & Germany (partly at Colditz) from 1942 (he was captured in the Western Desert in July); and as this obituary makes clear he was already sketching during the early part of his overseas military service (1939-41) in Palestine (and Syria): https://ind.pn/2UAgVtl. In fact, as the obit hints at, he had been painting long before that – a centenary exhibition last year at the Scottish Gallery in Edinburgh (where he regularly exhibited) mentions a youthful artistic talent, and illustrates two examples from 1932 & 1935. See https://bit.ly/2GFkWsG. Unfortunately the signature on the 1935 work (when he was 16 or 17 – see attached) is pretty much the same one he used during the war and in his later career: 'Haig', and then 'HAIG', or occasionally 'H'. He seems to have used a monogram briefly in the 1960s, but its form was very different to ours. See attached.

Interestingly the two men could easily have come across each other in the Levant or N. Africa, as Pitcairn also served there with the 2nd Bn Black Watch. The battalion was in Palestine until late 1939 or early 1940; and then, as far as I can gather from regimental records, in both Syria and Egypt (prob just in transit) at various points during 1940/41 until they were sent to Tobruk, where Pitcairn was killed in action on the 21st Nov 1941. Nevertheless I tend to think that a portrait from when he was on active service overseas (however informal and off-duty) would likely show him in a uniform shirt; and my guess is still that our work (or the photo on which it may have been based) dates from before the war. Such an early date might explain a portrait that is so different in style to Haig's subsequent work, and perhaps even an experimental monogram. But in truth, despite this long analysis I'm beginning to doubt that our portrait is by him! I do note, though, that the Scottish Gallery in Edinburgh, where Haig exhibited from 1945, was part of Aitken Dott & Son; and it is their label that is on the back of our portrait's frame (until the 1980s they were also frame-makers). See https://bit.ly/2PvKGdR.

There is actually a clear reference number (N3777) on the label which might be traceable in Aitken Dott's archives – some are in the National Library of Scotland, others held privately (possibly by the company's former manager/?owner, William Jackson). See https://bit.ly/2IUoWHd. I wonder, though, if the portrait's quality really merits such deeper research