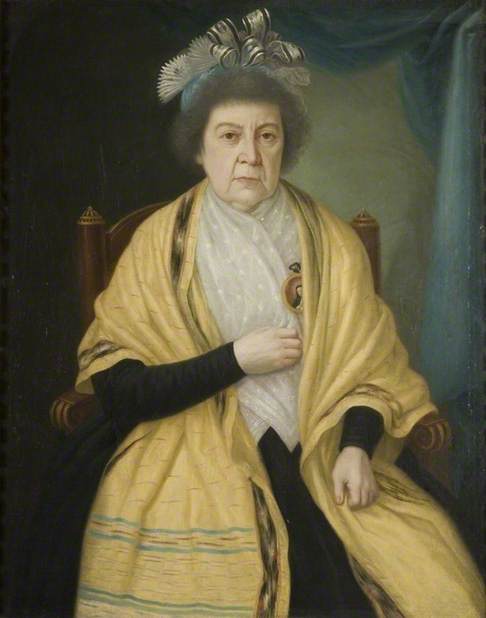 Topic: Artist
This portrait was painted in Mexico in the late 18th century. The sitter is wearing a white fichu (a small triangular shawl) and covered with a larger yellow shawl. The image on the brooch is based on the widely copied 'Nuestra Señora de la Soledad' (Our Lady of Sorrows) by Gaspar Becerra (1520–1568). The hairstyle consists of a pouf, which was popular at that time.

It is thought to have been painted in a studio, as the quality of the hands and the background are far from the face's quality. Maybe the professor retouched the face and the apprentice painted the rest of the portrait.

I would be so grateful if someone could provide any information about the author as well as about the sitter.

Art UK comments:
The collection purchased this work as by Francisco de Goya (1746–1828) with the title 'A Portrait of the Artist's Mother'. It was acquired along with two letters, dated 8th October 1776, supposedly written by Goya, which refer to a portrait of this subject. They are now believed to be fakes.

According to the NICE Paintings record, correspondence from Xavier Bray of Dulwich Picture Gallery (October 2012) suggested that it may have been painted by 'a Spanish artist working in Mexico City and associated to the Academy de San Carlos', perhaps Francisco Folch de Cardona (1744–1808).

Provenance: D. Fernando Baron; purchased by Duque del Infantado, Madrid, around 1925; Mr W. T. Russell, Kent, 1933; purchased by Mr B. Averkieff, 1937; J. B. Manson, 1940.

Exhibitions: El Arte en Espagña, Barcelona, 1929, cat. no. 3093.

Publications: Catalogue of the paintings, drawings and miniatures in the Barber Institute of Fine Arts, Cambridge, 1952, p. 54 (as by Goya).
Completed, Outcome

This discussion is now closed. This portrait, previously listed as 'Spanish School', has been attributed to José Campeche y Jordán (1751–1809), who was the most important Puerto Rican painter of portraits and religious subjects of his day. The attribution was recently proposed independently by Guillaume Kientz, Director of the Hispanic Society, New York.

Thank you to everyone who contributed to the discussion. To anyone viewing this discussion for the first time, please see below for all the comments that led to this conclusion.