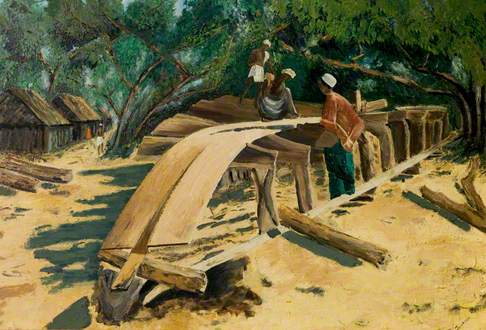 Topic: Artist
I'm pretty sure that the signature here must read 'S. Jackson', for Stanley Jackson. The single canvas credited to Stanley Jackson on Art UK is at the National Army Museum and is another Madras subject in a similar style, dated 1943: http://www.artuk.org/discover/artists/jackson-stanley-b-1917

Post-war, Jackson's art underwent a massive shift into a kind of abstract surrealism – see the posts on my blog, here – https://richardawarren.wordpress.com.

The collection comments:

'This painting was purchased by the Museum on 12th May 1970 from the artist. The name of the artist is listed in our accession register as "E. Jackson" and the address given is in Nuneaton.

We've taken a closer look at the signature. Unfortunately it is partly obscured by the frame but the initial does appear to be "E" rather than "S".'

Art UK has not been able to find further information on either Stanley Jackson (b.1917) or E. Jackson and would welcome any leads.
Completed, Outcome

This discussion is now closed. 'E. Jackson' was identified as Emily Jackson, an amateur artist of whom all that we know is that she swept the board at the 1970 Nuneaton Festival of Arts, being awarded three first prizes (in figure composition, portraits and free choice), one second prize (still life) and a special trophy in the art section of the festival (The Warwickshire Miners' Association Cup).

Thank you to everyone who contributed to the discussion. To anyone viewing this discussion for the first time, please see below for all the comments that led to this conclusion.