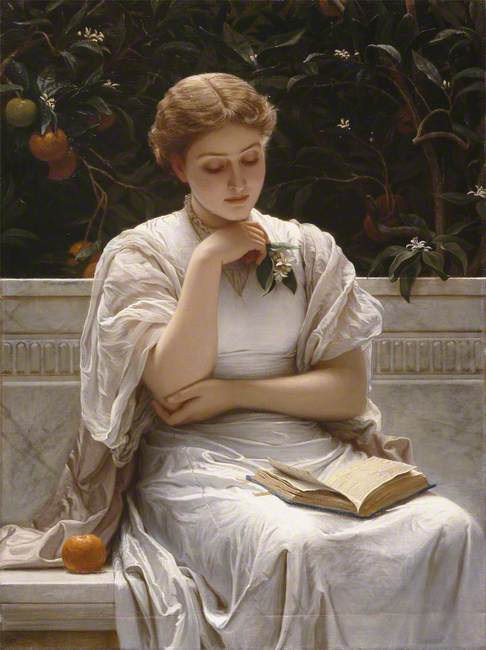 Topic: Painting description
Although in the gallery the title of this painting is officially given as 'Girl Reading', on the actual frame itself it is called 'A Fair Student'.

Why was the title changed and by whom?

The collection comments that, after completing research into its own archives, it remains unclear as to who changed the title of the work and why. The artist himself titled the work 'A Fair Student' as is evident by the frame plate.

As early as 31st May 1878 (the year it was painted), the Royal Academy Times refer to the work as 'Reading Girl', and it was exhibited at the Royal Academy that year as 'A Girl Reading' – but in the Manchester City Art Gallery exhibition catalogue of the James Blair bequest (1917), it's called 'A Fair Student'.

A label found in the archive calls it 'A Fair Student', and it (or a version of it) also seems to have been called 'In the Orangerie' at some point. It was still being referred to as 'Girl Reading' in 1998 in the Royal Academy 'Art Treasures of England'.

It would seem to have been the RA who changed the name. There is no reference to Perugini calling it 'Girl Reading', at least not in the archive.

Why anyone would have changed the title is unclear, nor do the collection hold any information of any discussion about a change.
Completed, Outcome

This discussion is now closed. The evidence suggests 'Girl Reading' was the painting's original title, so the Art UK record will remain unchanged.

Thank you to all for participating in this discussion. To those viewing this discussion for the first time, please see below for all comments that led to this conclusion.