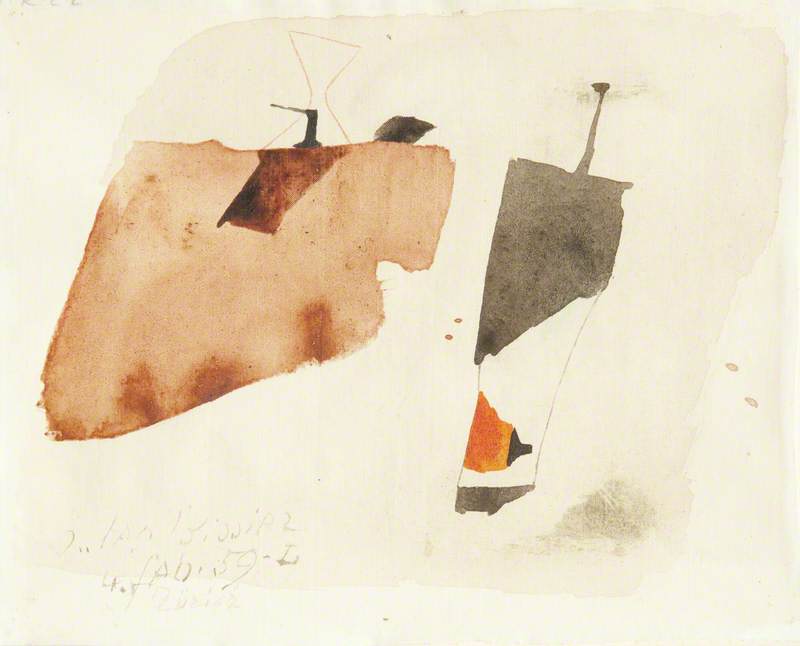 © Archivio Bissier, Ascona/DACS 2021. Photo credit: Peter Scott Gallery
German painter and designer, born at Freiburg. After studying briefly at the Academy in Karlsruhe he served in the First World War and afterwards resumed painting without further formal training. His early style was representational and had affinities with *Neue Sachlichkeit, but in the 1930s he turned to abstraction. This was partly because of the influence of *Baumeister (with whom he was friendly from 1929) and of *Brancusi (whom he met in Paris in 1930) and partly because of the influence of Chinese calligraphy and hieroglyphics (he had been introduced to Chinese culture by the Orientalist Ernest Grosse).
Read more
He used abstract shapes that he called 'signs of bipolar life', which were intended to induce meditation. Most of his early work was destroyed in 1934 by a fire at the University of Freiburg, where Bissier taught, 1929–34. After the Second World War he developed a more painterly style, exploring unusual colour combinations in small, precisely executed watercolours or egg tempera paintings (sometimes irregularly shaped). It was these works that first brought him widespread recognition. He took part in many international exhibitions and won the Museum of São Paulo Prize at the 1960 Venice *Biennale. Apart from painting, he also designed carpets and fabrics, which were woven by his wife.
Text source: A Dictionary of Modern and Contemporary Art (Oxford University Press)