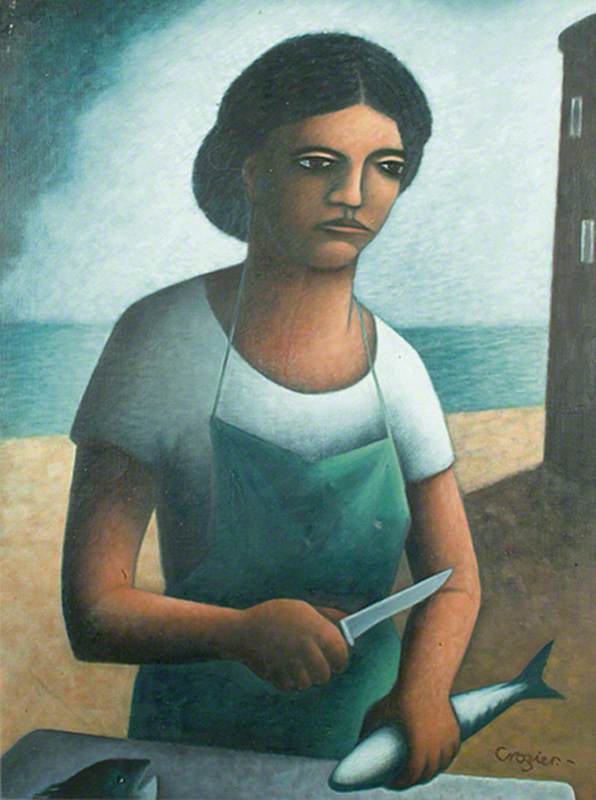 © the artist. Photo credit: East Sussex County Council Libraries
Painter and teacher, born and lived in London. He trained at Bath Academy of Art, Corsham, 1966–70, and Goldsmiths' College, 1978–80. Crozier was visiting tutor at Greenwich College and Central St Martins College of Art. He was elected to the LG in 2001. Group exhibitions also included Kettle's Yard, Cambridge; City University; South Bank Picture Show, prize winner, 1991; RA Summer Exhibition; and Blackheath Halls.
Read more
Among solo shows were Caius College, Cambridge, 1970; Gardner Centre Gallery, Brighton, 1974; Woodlands Art Gallery, 1979; Old Mill Studios, 1986; Raven Studio, 1996; and Royal Teas, 2002. East Sussex County Council, Goldsmiths', Lambeth Health Trust and private collections in the United Kingdom and America hold Crozier's work, which could have a strong pattern element. Of his Woodlands show he said the works contained "many direct and indirect borrowings from forms and processes of painting outside the Fine Art sphere, as well as non-Western art".
Text source: 'Artists in Britain Since 1945' by David Buckman (Art Dictionaries Ltd, part of Sansom & Company)