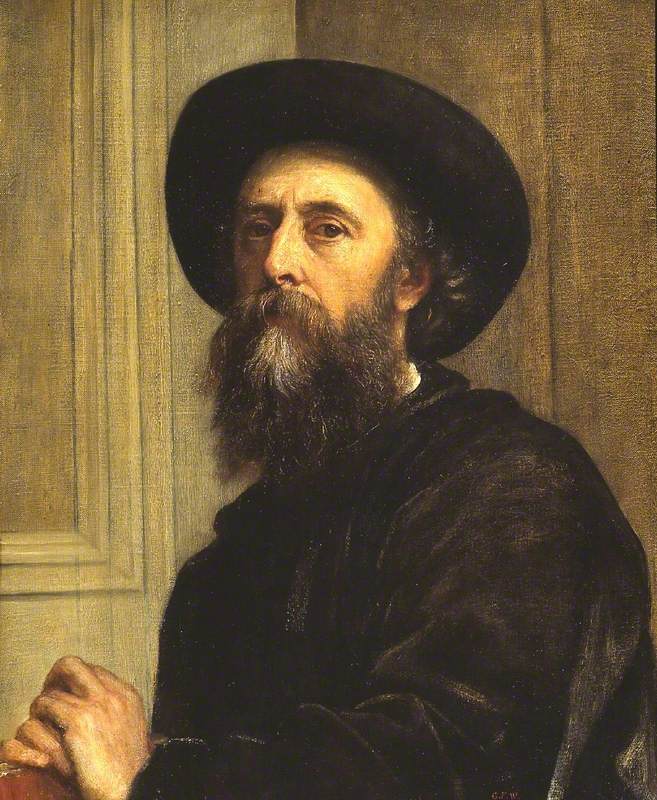 (Born London, 23 February 1817; died London, 1 July 1904). English painter and sculptor. In 1843 he won a prize in the competition for the decoration of the Houses of Parliament; no commission resulted from this, but he used the prize money to visit Italy, where the great Renaissance masters helped shape his elevated attitudes towards art. After returning to England in 1847, he established a solid reputation in intellectual circles, but popular fame did not come until the early 1880s, following exhibitions of his work in Manchester (1880) and London (1881).
Read more
In old age he was the most revered figure in British art, and in 1902 he was the only artist among the twelve original holders of the newly instituted Order of Merit (he had earlier refused many other honours, including a baronetcy, offered in 1885 at the same time as Millais's).

His style was early influenced by Etty, but the Elgin Marbles, Michelangelo, and the great Venetian painters (notably Titian) were his avowed exemplars in his aim 'to affect the mind seriously by nobility of line and colour'. He wanted to invest his work with moral purpose and his most characteristic paintings are abstruse allegories that were once enormously popular but now can seem vague and ponderous (Hope, 1886, Tate, London, and other versions). His portraits of great contemporaries (Gladstone, Tennyson, J. S. Mill, etc., NPG, London) have generally worn better. As a sculptor, he is remembered chiefly for his equestrian piece Physical Energy (1904). A cast of it forms the central feature of the Cecil Rhodes Memorial, Cape Town, and another is in Kensington Gardens, London. Watts was twice married, his first wife being the celebrated actress Ellen Terry, of whom he painted several portraits, notably 'Choosing' (c.1864, NPG). Only 16 at the time of the wedding in 1864, she was 30 years his junior and they separated the following year. His former house at Compton, near Guildford, Surrey, is now the Watts Gallery, devoted to his work. Wilfrid Blunt was curator 1959–85.
Text source: The Oxford Dictionary of Art and Artists (Oxford University Press)