Hunter is a Shiba Inu with a passion for painting. He's the canine Canaletto, the Shiba Seurat, the doggy Degas, the barking Bacon, the hound Hockney (though his works have – so far – tended heavily towards the abstract).
Art UK has previously interviewed museum cats: we felt it was time to redress the balance and catch up with a dog who's making waves on the Expressionist art scene, and using the internet to further his art world fame. Firstly, we asked Hunter to create an original painting based on one he found on Art UK: Spreadout Ron Kitaj, by Frank Bowling.
Could you tell us about a few of your favourite paintings?
My favourites are The Trickster by Edwin Henry Landseer, Boy Restraining a Dog by George Harvey, and A Dog and Slipper by Hilda Thomas because their paintings are about activities that I enjoy.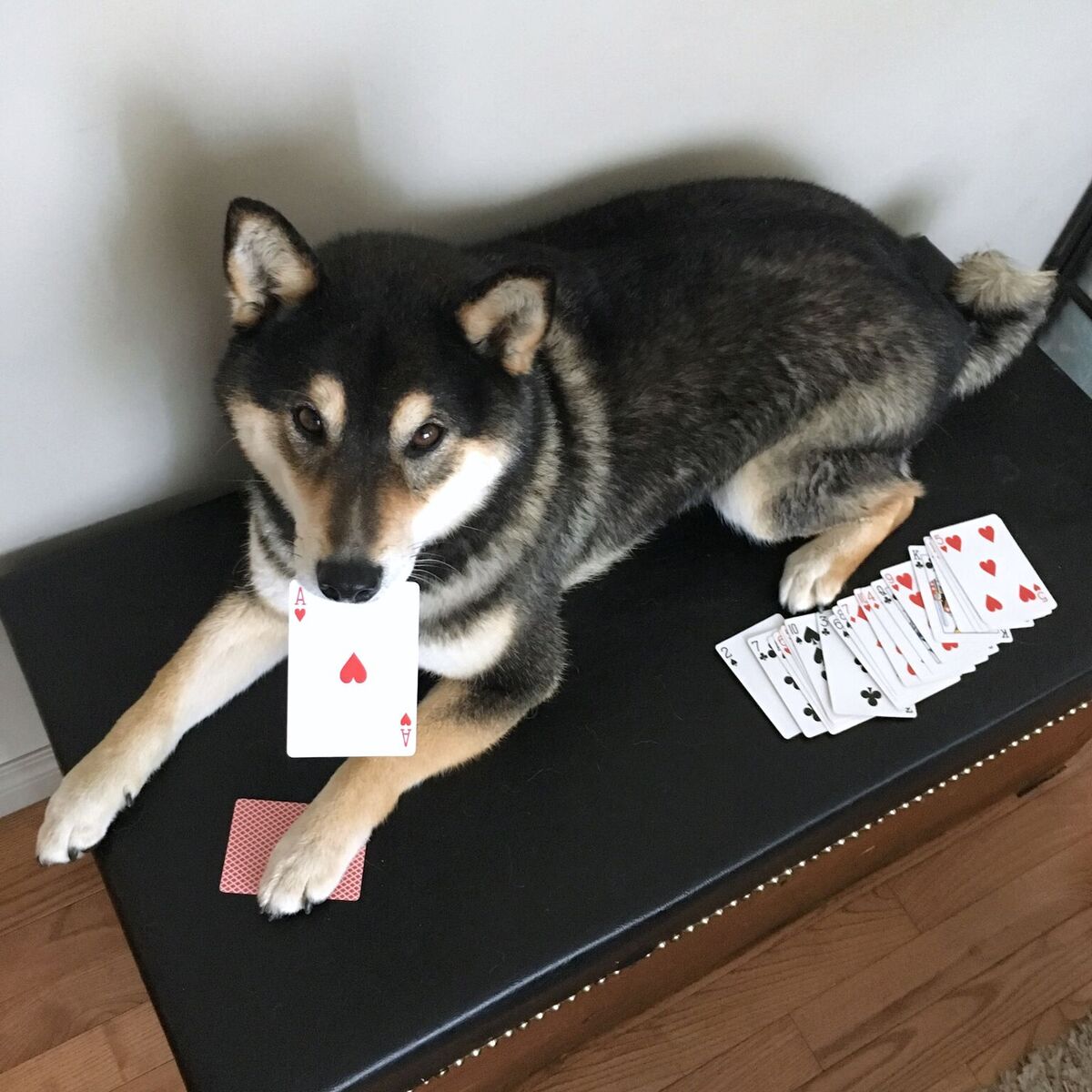 When did you start painting?
I started painting in the beginning of March of this year.
What are the main difficulties you face when painting, due to being a dog?
I'll drop the brush a lot. I'll paint on the walls instead of the canvas. I have a habit of chewing up the brushes.
Which artist would you most like to take you for a walk?
My choice would be Karl Weschke, the artist of Feeding Dog, because he is the one most likely to give me cheese.
It has been so great that each of my paintings has such different strokes, but I can still remain quite consistent.
Do you have a set time to paint every day or is it just when the inspiration strikes?
I like to paint in the evening after supper and just before bedtime. That is when my creativity is at its peak.
What do you have as a treat when you've finished a painting?
My favourite reward after completing a painting is a dehydrated beef tendon. I love it so much.
What do you think of the selection of art featuring dogs on Art UK?
The first thing I thought of is 'wow', there are a lot of paintings about other doggos here. Much historical doggos. I really enjoyed browsing through the site! It got me really excited!
Do you ever get fur in your paint or paint in your fur?
Yes, but this doesn't happen much at all. I've gotten a few spots of paint on my paw or whiskers but that's about it. As you can see from my videos, I'm very careful, and I've always been very clean and meticulous in everything I do. Whenever I drop the brush, humom needs to wipe the floor clean right away or it'll mess up my vibe.
Dogs see colours very differently to humans. Would you say this has affected your art?
I let humom choose the colours. She does it well. It's my job to take those colours and make them fly.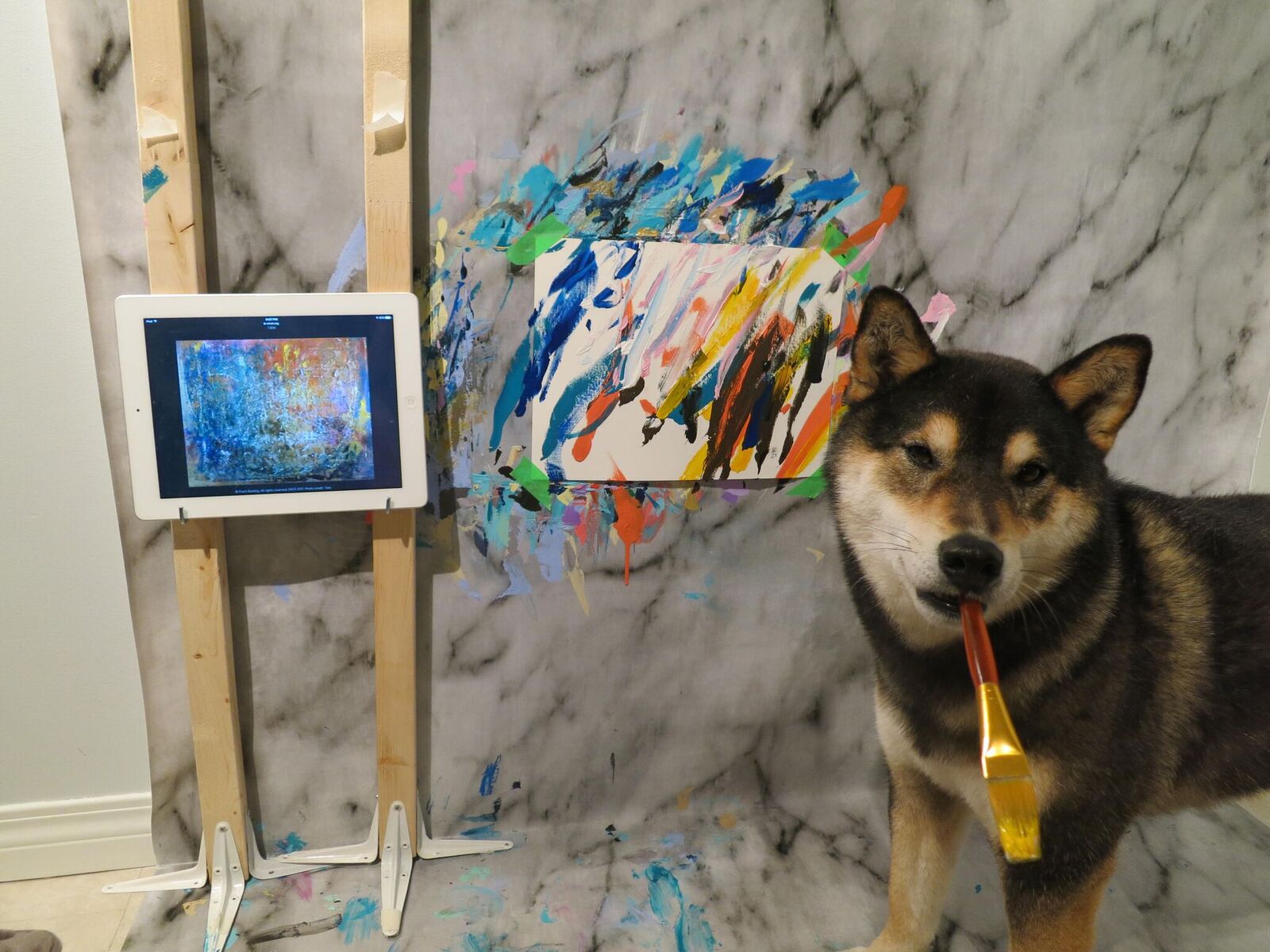 Do you think your style has evolved over time?
You'd think so, but suprisingly, the very first painting I did still resembles the ones I do today. It has been so great that each of my paintings has such different strokes, but I can still remain quite consistent.
How do you unwind after a hard day's painting?
After a painting session and a treat, I like to chill with my family and watch TV for a bit before finding a quiet corner to curl up for the night.
Art UK has featured interviews with museum cats Oswald Clingan-Smith and Jock VI in the past. If you were going to be a museum dog, which museum would it be in?
My choice would be the Art Gallery of Alberta! Mainly because of the short commute (I hate long car rides). Here is a picture I took of myself on a recent visit. It has a really cool architectural design and interesting exhibitions.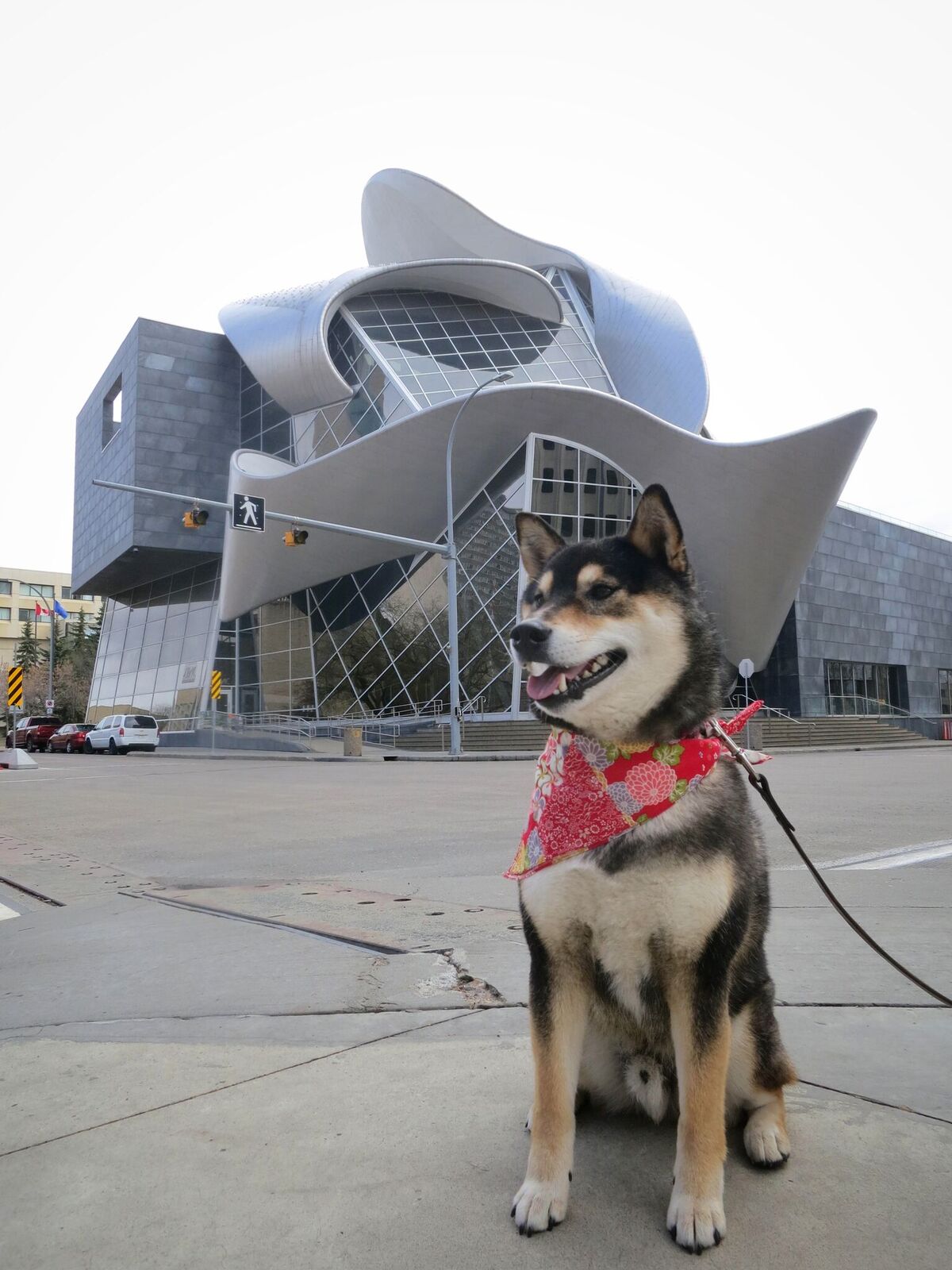 See more of Hunter's work over at his Instagram page.
Save
Save