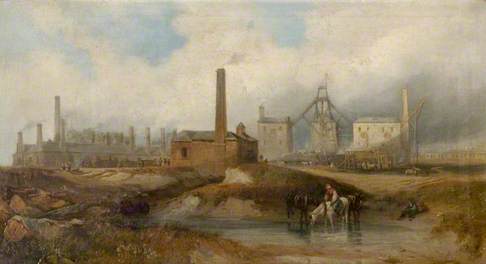 Topic: Subject or sitter
Does anyone have any ideas about the location of this 'Industrial Scene'?

The painting was donated to Nottingham City Museums and Galleries in 1938 by a London-based family. We are not aware of an East Midlands connection. John Wilson Carmichael was born in Newcastle and was based there in his early to mid-career before moving to London.
Completed, Outcome

The title has been amended to 'Industrial Scene (South Hetton Colliery, near Sunderland)'.

This amend will appear on the Your Paintings website by the end of July 2015. Thank you to all for participating in this discussion. To those viewing this discussion for the first time, please see below for all comments that led to this conclusion.

If any contributors have new information about this painting, we encourage them to propose a new discussion by following the Art Detective link on the Your Paintings page: http://www.bbc.co.uk/arts/yourpaintings/paintings/industrial-scene-47480