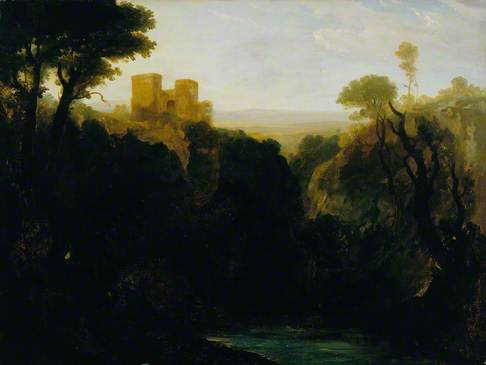 Topic: Subject or sitter
Could this be Crichton Castle? Our administrator noticed similarities between its architecture and that of the castle in the painting. Crichton Castle also sits on the edge of a steep hill, with a river running through the valley below as the one in the painting does.

The architecture doesn't quite match up, but the building has been modified many times. Thomson's pictures of other castles, such as Fast Castle, also seem to show a degree of artistic license. Presumably he painted the work in his studio, rather than observing it and has romanticised the landscape, making it look more Italianate. There are various watercolours of the castle by Turner, who was a friend of Thomson and visited him on his Scottish tours.

The other castle it could be is Borthwick, again suggested by our administrator, who knows the area well. However, the architecture doesn't add up as well and the hill the castle sits on isn't as steep as the one in the picture. Turner also painted Borthwick on his Scottish tours. Doune Castle has also been suggested in the past.

The final possibility is that it's an imagined castle – that it's not supposed to show a particular castle at all, but instead is just meant to be an evocative image.

What does everyone think? Any ideas are very welcome!
Completed, Outcome

This discussion has now been closed. There was no conclusion and the two possibilities are Cathcart and Doune. It was thought that the discussion went as far as it could. This work may not represent any particular castle.

Thank you to all for participating in this discussion. To those viewing this discussion for the first time, please see below for all comments that led to this conclusion.