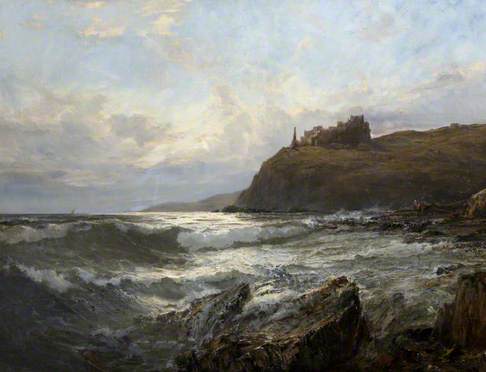 Topic: Artist
The 1909 Royal Academy catalogue and 1913 Christie's catalogue for the collection of George McCulloch both say Edwin Hayes did a painting just like this. It seems odd the son would repeat it.

The Illustrated London News from the 8th November 1890 describes Mr Edwin Hayes's painting 'Tantallon Castle' (523) with the sea breaking on the rocks at its feet, at the exhibition of the Institute of Painters in Oil Colours. George McCulloch was buying plenty of pictures over the years 1890–1891 on his second trip to London, before settling permanently in April 1893.

Edwin Hayes also painted further versions of Tantallon Castle, such as 'Off Tantallon Castle' in 1898 and 'Lobster Boats off Tantallon Castle'. Another 'Tantallon Castle' by E. Hayes is listed in 'The Artist' as being sold at Christie's in 1881.

The collection is unable to see a signature on the framed painting and would need to remove the canvas from its frame for further investigation to give a definite answer. It hopes to be able to follow up this lead, perhaps during the quieter winter months and will post anything found on this discussion. Any further information would be welcome.